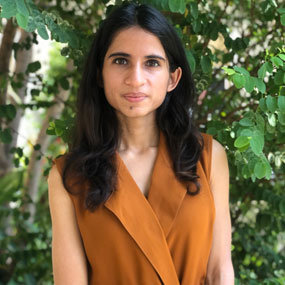 Shruti Rawal
Founder - Ewoke Studio
Her Story
I am a Fashion Design graduate from NIFT. The fashion industry is the second largest polluting industry in the world. Having always been an eco-conscious person, I wanted to provide a sustainable solution.
This led to the birth of Ewoke, a house of conscious clothing. Ewoke stands for environmentally woke. We design clothes for women using fabrics like Hemp, Recycled Polyester and Tencel which help us save over 2500 litres of water as compared to cotton per kg of fiber.
Every step of the supply chain is thoughtfully designed to ensure end to end sustainability. Soon after the launch of the brand, the world was hit by Covid. Very early into the lockdown, we realised the shortage of face masks and started working to produce them to donate to the frontline forces in the Police Force.
Her Company
Ewoke is a house of conscious clothing. We aim to provide eco-friendly wardrobes for women for work and away, while staying in vogue. Each decision is thoughtfully made to ensure maximum positive impact on the planet as we endeavour to ensure end to end sustainability.
The miraculous waves of the ocean to the mirage of the desert, are a constant inspiration of design at the studio. These timeless pieces are made for the conscious soul using eco-friendly fabrics, processes and techniques.
Her Achievements
Our efforts were noted by The Hindustan Times, The TOI and other major publications to inspire others to contribute in a time of uncertainty.
Gradually expanded sales of our apparel and accessory category with ecommerce platforms like Nykaa Fashion, 6DegreeStore and EcoFashion Labels, a global ecommerce platform.
Selected by the UNWomen for The Industry Disruptor Mentorship and Incubation Program. Also recognised under the Woman Hero Greenpreneurs by MyVerduraCare.
We have also been featured in various media publications such as The Times of India, The Hindustan Times, Startup Stories and Wow Magazine for our work in the field of sustainability.