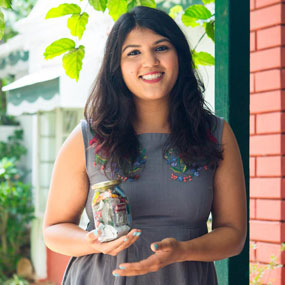 Sahar Mansoor
Founder - Bare Necessities
Her Story
"When I came back to India in 2015, I felt overwhelmed with India's trash problem. I was confronted by it every day- seeing piles of garbage on the streets and I spent time with local waste pickers and watched them sort through waste with their bare hands. I started to think of the environmental, health and social justices issues associated with our garbage problem.
I wanted to stop being part of the problem. I knew I had to address my own trash problem first. My solution was to live a lifestyle that best reflects the values I cared about. I had called myself an environmentalist for about six years at the time. I decided I needed to live a life fully congruent to my environmental and social justice values. I needed to walk the talk and I knew I had to start living a zero-waste lifestyle.
In my zero-waste journey, I realized that it was impossible to find personal care and home care products that didn't contain harmful chemicals and weren't packaged in plastic. In response to this problem,I wanted to create a company that mirrored the values of zero waste, ethical consumption and sustainability. I wanted to make it easy for other people looking to consume more mindfully and to encourage others to produce less waste. And Bare Necessities was born in 2016!
Her Company
Bare necessities is a zero waste personal care and home care brand and is also a hub for awareness on waste free living! At Bare Necessities, we believe in creating products that care for the environment as much as they care for you. Powered by nourishing, body-loving bare ingredients, our products are formulated with purity in mind, so you can feel good about the products you use in more ways than one.
Her Achievements
Vogue India – Named Top10 "Forces of Nature" in India
VERVE - Shaping the Future, Cover Story
Elle Magazine - Top 8 India Trailblazers
Google India's Inspiring Indian of the Year
Harper's Bazaar Magazine India - Bare Necessities recognized as one of the top 5 Handcrafted in India Brands.
Femina India - 6 Millennial Women who are the Keepers of Hope
NDTV's Swachh Warrior - "Yes, It Is Possible To Lead A Zero Waste Lifestyle. Take A Cue From This 26-Year Old Bengaluru Woman"
Better Homes and Gardens Magazine India - The Innovators, Trailblazers and Pathbreakers of India.
MTV and Jockey Women Portrait - featured as one of six women re-defining career paths of the 21st century.