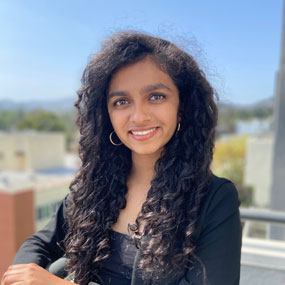 Sanjana Dixit
Founder and Executive Director - RutuChakra
Her Story
Coming from a philanthropic family, Sanjana has been involved in community service since the age of 7. During her visit to ThayiMane (an organization) on her 16th Birthday, she was confronted with the menstrual stigma and lack of resources. Believing that every menstruator has the right to manage their period with dignity, she started 'RutuChakra' to tackle this issue in 2018.
It is a youth led organization working to achieve menstrual equity and dignity for menstruators of all ages and backgrounds through action, awareness, and advocacy. By ensuring access to information and normalising 'Menstruation', RutuChakra has started an inclusive conversation surrounding Reproductive Health. They have started a covid taskforce to help individuals during the pandemic, and are focusing on sex education and menstrual product accessibility for the next few years. Through their pan-India chapter program, RutuChakra empowers individuals to aid menstruators in their communities.
Her Company
As of April 2021, RutuChakra has distributed 154,000+ menstrual products helping 9000+ menstruators, with over 94,000+ products distributed in response to the coronavirus pandemic; thereby ensuring that menstruators have a safe and hygienic period. They have conducted 30+ workshops in rural and urban areas. They have witnessed great success stories through our workshops, campaigns, social media, etc. and we intend to keep working hard to increase those numbers. Additionally, RutuChakra has chapters panIndia with 200+ volunteers from different states, which empowers individuals to aid menstruators in their communities and surrounding areas.
Her Achievements
For her contribution to this space, in 2019, Sanjana received the award 'Young Leaders Creating a Better World for All' at the Women Economic Forum and has been named as one of India's 'Top 10 Young Changemakers' by Ashoka Organization.
She has also paneled on prestigious platforms such as the 'Golden Girls Conclave' by Malabar Gold & Diamond in association with the Times of India, WISE Up, 'Lead Young Forum' by Ashoka Organisation, etc. to speak on these topics. The organization has been featured in 70+ media outlets