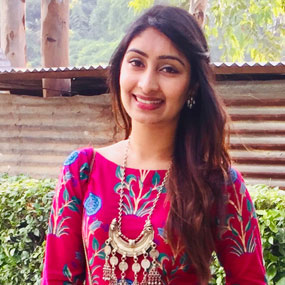 Harshita Chandra
Founder & CEO - Upcycleluxe Pvt. Ltd.
Her Story
Harshita Chandra, an Engineer, a fashion sustainability advocate tuned and Entrepreneur has worked in the fashion industry for almost a decade. She found out problems like waste generation, lack of fair trade & transparency in the supply chain that the fashion industries are not mindful of. She started collecting factory waste to manufacture bags and accessories part-time and developed capsule collections for few labels to check consumer buying behavior. While constantly working on the sustainable revolution she figured out that the gaps in the industry can't be heard alone.
So she came up with the idea of bringing together all sustainable & ethical brands on a single platform and named as "Upcycleluxe". Her technological skills came into use when she integrated science-based solutions to calculate the impact of the product and the purchasing impact that will help eliminate greenwashing. Her vision became stronger when she got selected for UN Women industry disruptor, WeEmpowerAsia program that cemented her dream and vision.
Her Company
Upcycleluxe is One-Stop Platform to 100% Sustainable Products & Virtual Workshops/Events.
They're committed to considered design, responsible sourcing, and fostering change. What drives them to their mission is to live more sustainably – something they hope to inspire you to do too.
Her Achievements
Have prevented roundabout 2,406.82 KiloGrams of CO2, 6,034.15 Liters of water being Conserved, 18,228.1 Grams of chemicals being prevented and 19,763.69 hours energy being saved within a span of 180 days.
Aims to cater to 1 billion consumers and help switch them to make greener choices by 2025 through www.upcycleluxe.com
Upcycleluxe also got selected with The Do school, Berlin on behalf of UN Women's industry disruptor, WeEmpowerAsia Program on sustainability in fashion.