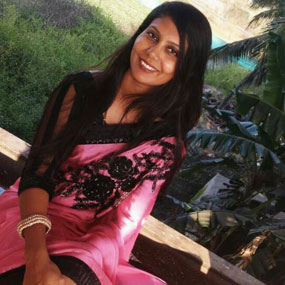 Siya Shaikh
Founder - Gowomaniagoa
Her Story
From being a trained Civil Engineering professional to a Social mentor for woman entrepreneurs, Siya Shaikh has come a long way.
Having worked for different multinationals in Goa and Pune, Siya was not really satisfied with her achievements and was always looking for that something more that she could contribute to the society as a payback time. Her love for traveling into the interiors of Goa, once brought her to a village where there were many talented ladies involved in various home based business occupations.
She has 10 years of Marketing and networking experience which has helped her to achieve her Goal of 'Empowering Women'.
"Yes I Am a proud Women Entrepreneur who believes In Uplifting other women around me. " saya Siya.
She is best described as a passiondriven person whose mission to support start-up Goan women entrepreneurs have led to her create a powerful platform that will serve as a milestone for Women Entrepreneurship in the State of Goa.
Leadership skill: this skill can be beneficial in any profession but in business it helps to more focused on the people and vision that guide change.
Effective Communication: it helps us to make some great deals, coordination and collaborations.
Networking :it's very critical when you are in need of any advice ,Specific challenge it acts as an Extension Of your knowledge And Connections.
Her Company
Go Womania is today being invited by colleges and other womens organizations for explanation of their working model and to become a part of motivational and inspirational talks and activities. A group which once started with about 10 to 15 members has a 7500 strong membership and still going stronger.
Currently She is also running a firm called 'Goa Metal Composites' which deals with Manufacturing of Fibre Doors and Allied products.